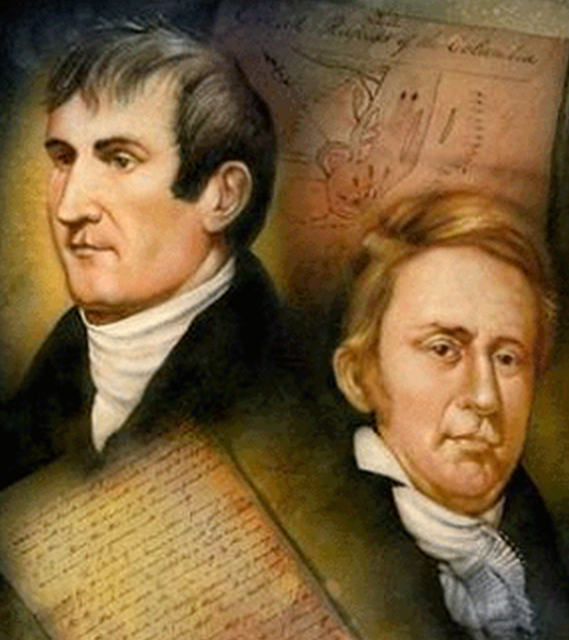 http://celebrating200years.noaa.gov/magazine/lewis_clark/lewis_clark.html
Resources
Field Trip
34. Pompeys Pillar - Named by Clark "Pompy's Tower" for Sacagawea's son whom he had nicknamed "Pomp." Clark inscribed his own name and the date in the rock on July 25, 1806.
35. Buffalo Mirage Access - Near this site Clark's party constructed two canoes and continued their exploration of the Yellowstone River by water.
36. Upper Missouri National Wild and Scenic River - This 149-mile segment from Kipp State Park upstream to Fort Benton provides excellent opportunities for retracing a section of the Expedition route that is little changed since 1805-06.
37. Marias River - The explorers spent 9 days in June 1805 determining the Marias was not the main stem of the Missouri River. Interpretive sign at nearby Loma, Montana.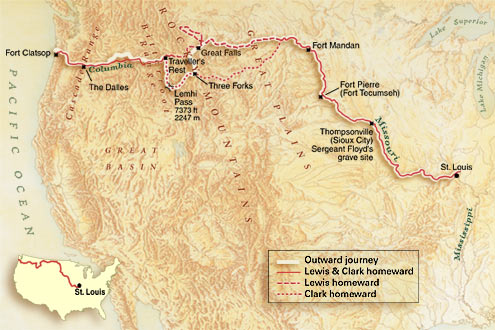 Map of the Lewis & Clark Expedition © National Geographic Maps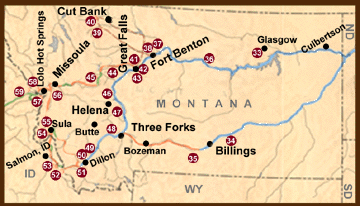 38. Fort Benton - On the riverfront levee in this historic town is a heroic-sized statue of Lewis and Clark, Sacagawea, and her son, Jean Baptiste Charbonneau. Bureau of Land Management visitor center featuring Lewis and Clark.
39. Two Medicine Fight Sight - Lewis and three of his men clashed at this site with eight Blackfeet Indians. Two Indians were killed. Access by permission from private landowner.
40. Camp Disappointment - Northernmost point reached by Lewis on his Marias River exploration. Access permitted across private lands. An interpretive sign about the site is located on U.S. Highway 2 about 22 miles west of Cut Bank.
41. Great Falls - Lewis described them as "this sublimely grand spectacle." The falls, as they appear today, may be viewed from Montana Power Company's Ryan Dam Park and its series of scenic overlooks. Interpretive signs.
42. Portage Around the Great Falls - The navigational obstacle of the Great Falls detained the Expedition for nearly a month in 1805 while boats and supplies were portaged 18 miles. Most of the route is privately owned and not accessible to the public.
43. Giant Springs Heritage State Park - Clark discovered this huge "fountain or spring" during the portage around the Great Falls. Interpretive signs.
44. Square Butte - Landmark named "Fort Mountain" by the explorers in 1805. It helped guide Lewis to the Great Falls in 1806 when he recognized it from Lewis and Clark Pass. Access by permission from private landowner.
45. Lewis and Clark Pass - Lewis and his party crossed this pass eastbound in 1806 following an Indian trail shortcut to the Great Falls. Accessible by foot trail.
46. Gates of the Mountains - Spectacular Missouri River canyon named by Lewis. Commercial boat trips available.
47. Canyon Ferry Recreation Areas - Numerous state recreation areas are located around Canyon Ferry Lake. Some have Lewis and Clark interpretation.
48. Missouri Headwaters State Park - Located where the Jefferson, Madison and Gallatin Rivers join to form the Missouri, the part has excellent Lewis and Clark interpretation.
49. Beaverhead Rock State Monument - Sacagawea recognized this landmark and told her captains that her people, the Shoshones, would be camped not far beyond. Interpretive sign 2.5 miles south on State Route 41.
50. Clark's Lookout State Monument- Scenic overlook of Beaverhead Valley climbed by Clark on August 13, 1805. Presently undeveloped.
51. Camp Fortunate Overlook - Near here, Lewis and the Shoshonis waited for the arrival of Clark and the main party. Named Camp Fortunate by the captains because of Clark's timely arrival and the fact that Sacagawea proved to be Chief Cameahwait's sister.
52. Lemhi Pass - Point at which Lewis and Clark first crossed the Continental Divide and left the territory of the Louisiana Purchase.
53. Cameahwait's Shoshone Camp - Site of Shoshone village where Lewis and Clark obtained horses for crossing the Bitterroot Mountains. No public access.
54. Lost Trail Pass - Interpretive sign.
55. Ross' Hole - Site where Lewis and Clark met the Flathead Indians.
56. Travelers Rest - The Expedition camped here September 9-11, 1805, and June 30-July 3, 1806. On the return journey, the Expedition separated here into two parties. Interpretive sign near junction of U.S. Highways 93 and 12.