The Robber Barons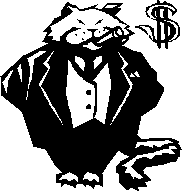 A site created for high school students about the robber barons: http://www.geocities.com/mrpizzuto/Robberbarons.html
An exploration of E. L. Doctorow's novel Ragtime includes information about Carnegie, Rockefeller, American Dream, labor Unions: http://newmedia.cgu.edu/bower/ragtime/index.htm
Oil
Edwin Drake drilled the first successful oil well in PA in 1859. 1870s -- Cleveland OH became the center of oil refining.
John Davison Rockefeller (1839-1937) brought order and stability to a wasteful and often violent industry when he bought and merged 70 companies into Standard Oil of Ohio , the first trust. As a result of price wars and ruthless business practices, Rockefeller controlled almost 90% of the nation'srefineries by 1879, when the trust was formed. He spied on his competitor's to ruin them, demanded and received rebates from railroads and built his own factories and warehouses to eliminate the middleman.
The elder philanthropic Rockefeller gave $550 million to the University of Chicago and four foundations.
Information on John D. Rockefeller: http://www.micheloud.com/FXM/SO/rock.htm

Steel
In the 1850s, two men, American William Kelly and Englishman Henry Bessemer, independent of each other, developed the open hearth method, which forced a blast of cold air into molten metal removing more carbon impurities.
Plants opened near sources of iron ore and coal in PA, near Pittsburg and in TN and VA and near Birmingham AL.
With the precise control of carbon removal, cheaper iron ore could be used.
Andrew Carnegie (1835-1919) -- Leader in the Steel Industry. Carnegie exercised direct control over his company, allowing only close friends to be stock holders, using a system of partnerships to integrate a production line, which combined coal and ore mines, limestone quarries, coke ovens, ore-carrying ships and railroads.
1901 - Carnegie sold his holdings to a J.P. Morgan (1837-1913) combine who created US Steel , the first billion dollar corporation.
Carnegie followed the "Stewardship of Wealth", turning to philanthropy. "Gospel of Wealth" -- a concentration of wealth was needed if humanity were to progress, but the rich were obligated to use their wealth for the public's benefit.
He disposed of $350 of $400 million before his death, endowing libraries, building public buildings and establishing foundations.

Andrew Carnegie timeline: http://www.pbs.org/wgbh/amex/carnegie/timeline/timeline2.html
Andrew Carnegie tribute: http://www.clpgh.org/exhibit/carnegie.html
Electricity
With the development of a cheap long-life incandescent bulb, Thomas Alva Edison (1847-l93l) formed the Edison Company, opening his first commercial electric station in NY City in 1882, using direct current, low voltage electricity.
His chief competitor George Westinghouse (1846-1914) developed the use of alternating currents in 1886, with his Westinghouse Electric Company
Between 1889-92, J.P. Morgan financed the merger of several interests and competitors with Edison to form the General Electric Company.

Communications and Entertainment Industry
Edison and George Eastman perfected a motion picture camera (kinetograph)
Alexander Graham Bell (1847-1922) developed the telephone in combination with a carbon transmitter which improved voice quality. This plus a switchboard made the telephone commercially feasible. In 1880, 50,000 phones were in use in the US. By 1890, 250,000 phones were in use. By 1900, 800,000 phones were in use.
1885 - Bell and Associates consolidated over 100 companies to form the American Telegraph and Telephone Company , communications giant by 1900.

Meatpacking Industry
Three phases of the meatpacking industry developed: (a) slaughtering - packing
(b) storage - distribution (c) byproducts.
Gustavus Franklin Swift established Swift and Co in Chicago, perfected the use of ice-cooled refrigerator cars in 1877, shipped the first load of dressed beef to Boston in warm weather and greatly enhanced the growing TX cattle industry

Canning and food preservation industry
The Union army required huge quantities of canned goods which greatly enhanced the growth of this industry.
Gail Borden opened a condensed milk factory in NY in 1861.
By 1900, A.J. Heinz and others opened preservation plants which became widely acceptable as good canners.

Tobacco - first exported American crop
Tobacco returned prosperity to parts of the New South by aggressive advertising, new cigarette-making machines and exploiting new markets.
James B. Duke formed the American Tobacco Company (1890) which sold ready-rolled cigarettes and introduced coupons to be exchanged for premiums.

Early Attempts at Government Regulation
Social Darwinism
As Darwin's theories of evolution permeated the fabric of American society, the concepts, when applied to the social order, were more accepted. This allowed Big Business to prosper by creating trusts and monopolies through the destruction of competition in the marketplace.
Eventually, a public outcry against ruthless practices of Big Business led to attempts to control the monopolistic tendencies of American industry.
Regulation of the Railroads - Began with the state legislatures
Munn vs Illinois 1876 - a partial victory for Midwestern grangers
Wabash [St. Louis & Pacific Railway Co] vs Illinois 1886. The Supreme Court 6 - 3 restricted the state's power to regulate.

Interstate Commerce Act 1887
(1) Outlawed unfair discrimination against shippers with the use of rebates, pools, drawbacks and long-short haul
discrepancies
(2) Declared that railroad rates must be reasonable and just and published and could not be changed without
sufficient public notice.
(3) It created the Interstate Commerce Commission

Regulation of Trusts and Monopolies -- Sherman Anti-Trust Act 1890
It forbade business combinations which resulted in restraint of trade. It did not recognize a good trust from a bad one. Although weak against Big Business, it was used effectively during the Gilded Age against unions, whose strikes were interpreted by the courts as a labor combination which restrained trade.
US vs E.C. Knight Co January 1895
The Court 8 - 1 ruled that the American Sugar Refining Company 's acquisition of the stock of its leading
competitors, allowing it to control almost all sugar refining in the US, was not in violation of the Sherman Anti-Trust Act. This decision paved the way for the great mergers of the 1890s.